Who Can Be a Carer?
The work of carers is incredibly important and makes a great difference to the lives of the ageing and vulnerable. The elderly population is growing each year, and this trend is continuing. As such, there has never been a higher demand for care workers, and care has never been so vital. But who can be a carer?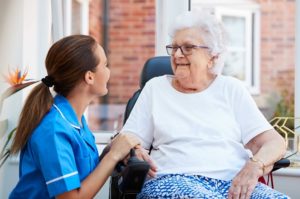 As it turns out, a carer is not restricted to a professional role. A carer could be any adult or child who looks after a loved one. This could be due to ageing and frailty, or disability, mental health or addiction. The compassion involved in caring may make it difficult for people to see their role as a carer as distinct from a personal relationship. Many people across the UK are carers without considering themselves one.
But not all families are able to take on the full responsibilities of care themselves. This is where professional carers can step in to help.
What Skills Does a Carer Need?
Providing care is a rewarding job. Helping the elderly and vulnerable has a positive effect that is seen from day to day. But care isn't always easy, and isn't a job for everyone. However, we look for many traits in our carers that you yourself might already have.
Carers need to be compassionate and caring. This means taking a genuine interest in the people under your care, and bringing warmth and cheer to the role each day. This positivity and enthusiasm make day-to-day care that more rewarding. A carer needs to meet potentially sensitive situation with self-confidence and understanding. But hand in hand with this positivity, carers also need to be emotionally strong. Caring is not always an easy role. Unexpected events need to be met with strength. This also means having a cool head under pressure.
As well as this, attention to detail is a trait of all the best carers. Caring might require giving medication; accuracy and thoroughness is key here. But attention to detail will also help you spot the signs that someone is not quite themselves. This kind of awareness can make all the difference.
A role as a residential care worker draws on a wide variety of skills, all rooted in compassion and understanding. You may find that you have many of these skills already.
Who Can Be a Carer with Michael Rgis Care Services?
Working as a carer can mean flexible work hours. These hours can work around a busy family life, especially if you have children of school age. On top of this, there are options for early starts, as well as evening and night work.
Providing care is one of the most rewarding careers you can choose. Not every day is easy, and there are always challenges; but bringing positivity into the lives of people nationwide makes a daily difference.
If you're interested in a career as a carer, get in touch with Michael Rgis Care today. We are always on the lookout for compassionate people who can be a carer. Michael Rgis Care Services operate throughout Essex and Cheshire, and are always happy to discuss career opportunities.