What is Live-In Care?
Different people require different levels of care. Nowadays, there are many different care plans to suit all kinds of living situations and care needs. Live-in care is one of these options, that allows your loved one to stay in their home whilst receiving the support they need. But what is Live-In Care? And what sets it apart from other care options?
At its simplest, live-in care means a carer moving in with a person they are caring for. This arrangement brings with it all kinds of benefits. But you shouldn't confuse live-in care with 24-hour care arrangements.
What is Live-In Care and What are the Benefits?
Live-in care brings a fully qualified carer into the home to live with a person requiring care. There are all kinds of ways a live-in carer will support the person they live with. Firstly, a live-in carer can lend a hand with nutritional and dietary needs. This could mean preparing a meal or just nipping out for some ingredients.
Live-in carers can also provide medical care. Whether it's a simple medication prompt, or more specialist medical care, live-in carers help people keep on top of their health needs. In some cases, this can also mean providing personal care like dressing and bathing. As well as this, a live-in carer will help with housekeeping and domestic tasks.
A live-in carer is also on hand to help with mobility. Day to day, this could simply mean helping a person navigate the home or operate stairlifts. But live-in carers can also provide support to people venturing out and about. This could simply be running an errand or a grander day out.
Of course, one of the greatest benefits of a live-in carer is the on-hand companionship and support they provide. A live-in carer will quickly become a familiar face and trusted friend. Companionship and emotional support are a central part of a live-in carer's role.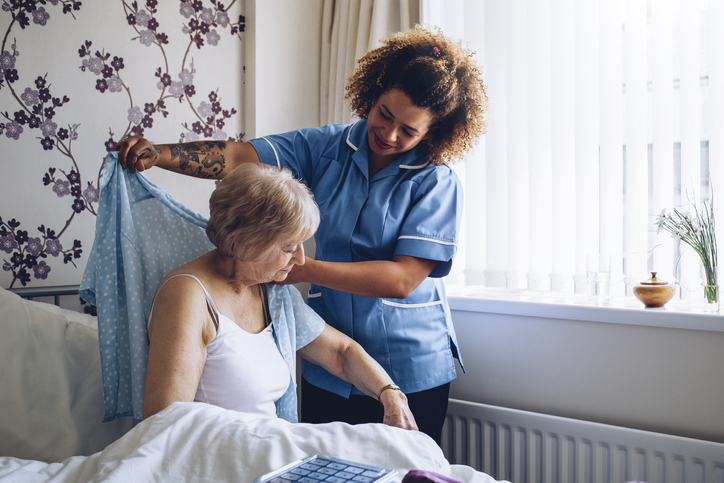 Compassionate Care Services from Michael Rgis
For families, elder care offers a range of benefits. Firstly, unlike moving into a residential care home, families and friends can visit their loved one as normal. The person receiving care may also be able to join the family for social events far more often. Families are also able to get to know a live-in carer.
But before contacting a care agency, it's important to know what is not covered by live-in care. This shouldn't be confused with 24-hour care. No carer can work round the clock; 24-hour care requires a team. 24-hour care is best for people who may often need attention during the night or those who can't be left unattended for short periods of time. Though a live-in carer is often in the house, this doesn't mean that they should be expected to work 24/7.
So what is live-in care? Ultimately, it's a helping hand in the home. The presence of a carer can help a person maintain their independence, as well as their familiar routines, all in the treasured home environment.
If you are thinking that this type of care is the right option for your loved one, get in touch with Michael Rgis Care for an informal chat. We can take things from there, supporting you every step of the way!