What is the Role of a Support Worker?
Have you been curious to learn more about support worker roles? Are you considering becoming a support worker? In order to appreciate the role, it is a good idea to take a look at some of the main responsibilities that this job will involve. We will outline the basics as well as some challenges that you may have to face from time to time.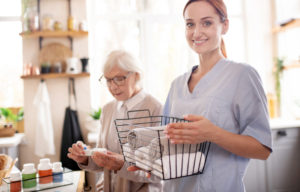 What is a Support Worker and What are Some of the Main Responsibilities?
A support worker is a professional who cares for the needs of others; especially those who may be limited by specific medical or emotional conditions. There are actually many different support worker roles that you may need to fulfil. This will depend upon where you are working as well as the needs of others. Here are some common examples:
Helping with personal hygiene.
Tackling common household tasks.
Providing emotional support.
Addressing any medical needs (such as taking medication on a regular basis).
Working in conjunction with other doctors and specialists.
The main goal of a home care worker is to improve quality of life while ensuring the safety and well-being of the patient. This is why many support worker roles will require a fair amount of interpersonal experience; particularly if you wish to work in a role associated with palliative (end-of-life) care.
What Type of Employment Pattern Can You Expect When Pursuing a Support Worker Role?
Support worker roles can often be defined by a part- or full-time basis. Many part-time care workers are currently in high demand due to their more flexible schedules. However, you may still be required to work nights and weekends on occasion. This depends upon the type of contract as well as your availability. The good news is that many firms are willing to work around your personal responsibilities. It is therefore a good idea to determine your future availability when applying for a position.
Challenges and Career Opportunities
There are understandable challenges associated with this industry. Not only should you possess excellent social skills, but the learning curve never truly ends. Many organisations may require you to already have qualifications as well as hands-on experience before they will consider your application.
However, the rewards are just as fulfilling if you are searching for a long-term career. For example, you can progress to senior positions such as a manager or a supervisor if you choose to pursue qualifications such as an NVQ or SVQ. It could also be possible to migrate to different sectors such as nursing or social work over time.
Michael Rgis Care Services provides targeted training programmes if you are interested to learn more about this dynamic and rewarding profession. So, please take a few moments to apply online to begin your journey today or contact us if you have any additional questions.