So, What Makes a Good Carer?
Working as a carer can help bring joy and laughter into the lives of clients. Equally, there can be serious and trying times. But through it all, providing care is a rewarding role that makes an incredible difference to people's lives. Whilst training is essential, what makes a good carer involves many more personal qualities. These qualities encapsulate everything from listening skills to quick thinking. Great carers bring more than their qualifications to the role. It is their friendliness, adaptability, and attentiveness that builds the strongest relationships with clients, and can have the greatest impact on their quality of life.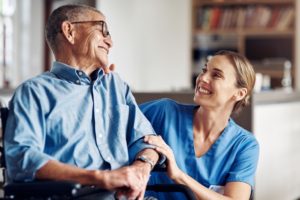 The Qualities of a Good Carer
For some individuals, a carer might be the only person they have regular, day-to-day contact with. Firstly, this calls for punctuality and dedication as many people in care look forward to their care provision. This is also why a cheerful demeanour is so important. Friendliness and cheerfulness can help make a patient feel more comfortable, and instantly brighten up their day. At the same time, it helps build up all-important trust.
Hand in hand with this friendliness, a good carer will be an attentive and patient listener. Often, people receiving care may have lots to tell you. This could simply be stories, or directly related to their needs; a good carer takes the time to listen to both. In their professional capacity a carer will take on feedback, whilst in their personal capacity, listening will help build up a bond with the client.
As well as this, good carers can think on their feet whilst being safety-conscious. Care by its very nature often means looking after people whose condition can quickly change. Facing unexpected occurrences with a cool head is part and parcel of being a care-giver, and this readiness can save lives.
These are just some of the many personal qualities that enable good carers to provide the best care with dignity.
Life-Changing Care from Michael Rgis Care Services
To support carers and clients in building up meaningful relationships, Michael Rgis Care are always taking feedback from clients. Hearing about staff going that extra mile to help, or just brightening up the room, is exactly the kind of service expected of our team. With this feedback to hand, Michael Rgis Care Services know what makes a good carer.
Of course, all professional care is backed up by a range of qualifications and training. With our knowledge of what makes a good carer, we are able to offer a high level of training to our staff. Qualifications and experience provide the firm foundation for all the personal qualities that allow carers to provide the very best service.
Whether you're considering a career in care, or looking for a respectful, friendly care service provider, get in touch with Michael Rgis Care Services today. We are always happy to discuss your requirements.